Student Testimonial: SGEC Grand Re-Opening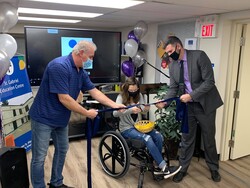 Good afternoon my name is Maggie Slessor and I am a grade 11 student and this is my second year at St. Gabriel's Education Centre.
I chose to come to this school last year, due to the fact that after two weeks in a traditional high school setting, I knew that it was not going to work for me. Traditional school was hard on my anxiety and I was missing too much school due to appointments and tough days caused by my disability.
My first day at this school, I was greeted with such kindness from all the staff and I knew that they had the best interest in me and my education. I always feel heard, appreciated and understood. Because of this school, I have been the most academically successful than I have at any other school.Another thing I love about this school is that we were able to have coffee talk with the division chaplain. This is where I could meet new people and learn how to be a better person through faith.
Now with St Gabriel's, I do not have to worry about missing school due to appointments and days where I need to focus on me. This school has also helped tremendously with my anxiety. Because of the small class sizes, I do not get overwhelmed by so many people. St. Gabe's has also helped me learn how to be self-disciplined due to the fact that I do the majority of my school from home and I am responsible for getting my assignments in on time. The teachers are also very accommodating so if I need flexibility in my courses or assignments, I am not worried about falling behind. With the new location, I am able to bring my wheelchair, and due to this, I am less tired so I can focus on my school.
I would like to take this opportunity to thank some people. Thank you to all of my teachers, Mrs. Bedi, Mrs. Terin and Mr. Scaber. it is because of the teachers at St. Gabriel Education Centre that I would like to pursue a career as a teacher myself. Thank you for always making me smile and laugh even on bad days you make them better. Thank you, for always believing and advocating for my success.
Lastly, thank you to the district for allowing the move of the school, it is because of this change I am allowed to be independent and there are no barriers in allowing me to get a proper education.When I graduate, I will take what I have learned and the memories I have made with me and I am forever grateful for what this school has done for myself.
Maggie Slessor - Grade 11 Student
Parent Testimonial: SGEC Grand Re-Opening
Good afternoon and thank you for inviting my daughter and I to be a part of this virtual celebration. We are honoured and excited to be here today.
Maggie has attended traditional school since kindergarten. It quickly became apparent to us that Maggie would not succeed in this model for high school.
We struggled to find a suitable placement, until we were told about St. Gabriel's Education Centre. We met with the staff and administrative team and with some minor adaptations she was enrolled.
Maggie was successful, happy, loved coming to school and we had no tears or tantrums from either one us that year! The model works for Maggie. She feels comfortable, welcomed, and understood. She has developed a relationship with her teachers built on mutual trust and respect.
When we were informed about the location change and were asked to advise on accessibility we were beyond thrilled. Maggie would now be able to be 100% independent, focus better by being in her wheelchair and be in the proper physical posture conducive to learning. She is truly now an active participant in her education.
Maggie (when not in the middle of a Pandemic) enjoyed the coffee chats with the Chaplain and the special activities. I loved that she was creating a special bond among staff, students, home, school and the church so that all would share this strong sense of community. These shared experiences of faith and values are important to me and I am glad that Maggie is a part of this through her school.
Thank you to everyone who made today possible. We are grateful to have this option in education, and we look forward to celebrating Maggie's accomplishments with you.
Doreen Slessor - Parent
St. Gabriel Graduation Parent Address
Four years ago our daughter approached us about switching to St. Gabriel. I admit that we were a little hesitant as we weren't sure what to expect. So we came for a visit, met with the Principal and a few others, and took that leap of faith and switched!   It has been an amazing four years. From the moment you walk through those front doors you feel supported and welcomed by each and every member of this school, and for that I thank you.
I really want to express our gratitude to you all for creating this amazing culture and safe environment that cannot be duplicated.   You have provided our daughter and her fellow classmates the opportunity to be at a school where everyone learns at their own pace, where everyone feels respected and confident in who they are and their abilities. Every single one of you go above and beyond to help these students be successful in not only their education but who they are as individuals.   
A few weeks ago I attended the student appreciation awards and BBQ. What I saw at this celebration were people who are truly proud of each and every student and what they have and will accomplish.   Every staff member at St. Gabes wants to see every student here succeed, wants to guide them, wants them to realize that they are capable of absolutely anything they set their mind to.
I want everyone to know how fabulous this school is and how wonderful the staff are. Yet, I want to keep it a secret so it doesn't lose what makes it so special. That connection with the students, that feeling of being a family and of looking out for one another. St. Albert Catholic School District is truly blessed and fortunate to have this school in its district and we are grateful to have been a part of it.
"A teacher takes a hand, opens a mind, and touches a heart. ~Author Unknown – you have opened the minds of each student in this graduating class!   In summary – In case you're not sure what I'm trying to say here – I think you are all awesome!
Parent Testimonial
I would like to say thank you to you for being such a good teacher and a good example to your students. He always talks so highly of you!

It is really important to me that he should be doing good in school while I am away working out of the country. And I'm glad you're his teacher!! Accept my appreciation, and I wish you well always and good health to you and the entire staff of St. Gabriel School.
Happy Teacher's Appreciation Week and God bless you all always !!


Student Testimonials:
Thank you for the wonderful graduation ceremony! We enjoyed it very much. The beautiful weather was also a blessing. Thank you very much for the Grad picture frame, the beautiful card, the tasty pizza, the delicious cupcake and the monetary award! We are thankful for the positive path our son is on for his future because of all the staff at St. Gabriels. God bless. - LW
My heart is so full, thank you so much! This school has been so amazing to me, words can't even describe how grateful I am for everything. - CR
"St Gabe's is Love." MS
"It is a friendly environment where everyone is accepted.  It is easier to approach teachers than in any other school." RH
"The teachers are empathetic, compassionate, and the school system is flexible and understanding which brings out my full potential." SF