Have a great summer!
As our last week of final exams slowly comes to an end, we just wanted to take a moment to wish all our students and parents a great summer!  Looking forward to seeing all of you again this next fall.
St Gabriel will open its doors on Monday, August 28th.  In the meantime, if you haven't registered for the fall please make sure you do so before you leave for the summer.  To register just click on this online registration form link and fill it in.  If you have any questions, we are here until Thursday, June 29th.  You can also come in starting Monday, August 28th to review your course selections with one of the school administrators.
Have a safe summer and see you in the fall!
St. Gabriel Staff
Applying for next year? Thinking about Summer School?
St. Gabriel Registration for the 2016/17 school year is now closed.  If you plan to take courses with us next year, please visit our 'How To Apply' page.
Summer School
If you would like to get ahead or catch up with your studies, have you considered taking a Summer School course?  This is a great opportunity for students!  For more information please visit our Summer School website!
Take the courses you want!
Didn't get all the courses you wanted or needed at your school?  As part of both St. Albert Catholic and Public schools, St. Gabriel High School is here for you!  We are a publicly funded blended learning school.  This means our courses are online for student access anytime, from anyplace, AND you can meet and work with your teachers one-on-one based on your schedule, not a school bell schedule.  
If you need courses that are not fitting into your current timetable or if the classroom is not working out for you, give us a call at 780-459-6616 to see if we can help.  And remember, high schools in Alberta are funded based on the courses you complete at the school.  This means you can attend more than one high school at the same time!!  Come in and discuss your options and the possibility of taking courses with us.
---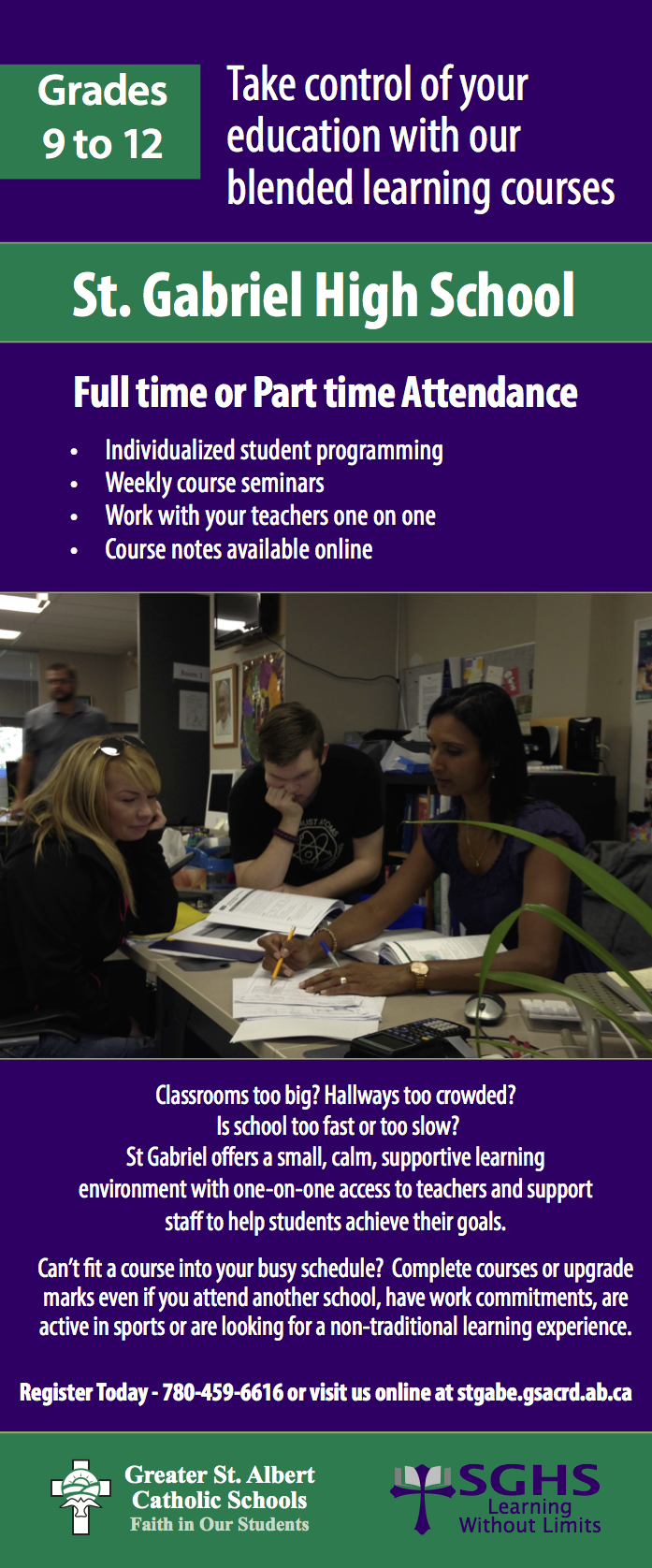 Division News