Back to all posts
Posted on
Register for NEXT Year!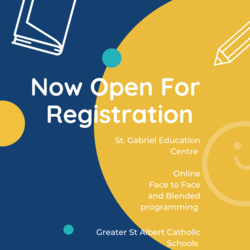 St. Gabriel Education Centre is Greater St. Albert Catholic School Division's provider for online high school education. We offer online, face-to-face and blended programming to suit your learning needs.
If you are a new or returning student to SGEC, click on the link HERE to register for next year. This is a NEW REGISTRATION FORM so even if you're a returning SGEC student, you will need to use the "New Student Registration form". You will need to create an account. You will receive a confirmation email once you have completed the registration form and it has been entered into our data base. 
If you are attending another high school (in St. Albert or elsewhere in Alberta) and would like to take one or more courses at SGEC, please contact Mrs. Franklin at 780-459-6616 or by email at vfranklin@gsacrd.ab.ca for more information about our concurrent course enrolment.
Adult Education - If you are an adult wanting to upgrade or finish your high school diploma, please contact Mrs. Franklin for more information about our adult education programs.
Registration Documentation:
Legal proof of the student's name, residency, and guardianship (for students under the age of 18) will be required when you register. Please provide the school with photocopies of required documents (if you need it copied, we can do that for you). These documents will be placed in your Alberta Education Official Student Record. 
If you have any questions, please reach out to us!