Back to all posts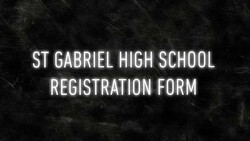 We are accepting registrations for the 2020/21 school year.  You are welcome to register online using the following link.  Please note, that our office is currently closed.  If you have additional questions or require additional supports, please email our registrar: vfranklin@gsacrd.ab.ca.  
Once you have completed the online registration process and submitted your application, you will receive a confirmation email sent to the student email entered at the beginning of the registration process.  Further follow up and confirmation will occur once our office re-opens.
We thank you for your continued patience.