Back to all posts
Posted on
National Cerebral Palsy Day!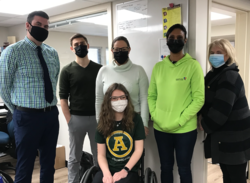 March is National Cerebral Palsy Awareness Month, and Cerebral Palsy Awareness Day is Thursday, March 25th. This initiative was started by a cerebral palsy advocacy group in 2006. Supporters, activists, and advocates celebrate by wearing the colour green, using the #GoGreen4CP hashtag, and donating to organizations such as the Cerebral Palsy Foundation.
Today, staff wore green in solidarity with our SGEC student Maggie Slessor!